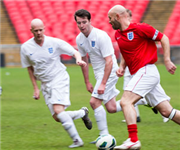 Uncategorised
PLAY AT WEMBLEY STADIUM
As part of our hospitality package with Club Wembley, each year we are given permission to offer customers the chance to experience a once in a lifetime opportunity, to play at our national stadium.
Wembley stadium will again host an event to raise money forThe Bobby Moore Fund. This year, they have invited Club Wembley and Bobby Moore Club members to live the ultimate dream of any football fan: experiencing the thrill of stepping out on the hallowed Wembley turf!
They have a strict limit on the number of places for the Wembley Pitch Day which is in aid of the Bobby Moore Fund on Sunday 22nd November, available at £1,500 per player.
Each place includes:
•    The opportunity to actually play on the pitch at Wembley, the home of English football
•    The chance to play in a team captained by an ex-professional footballer – in 2014 our four teams were captained by Teddy Sheringham, Gaizka Mendieta, Danny Mills and Dave Beasant
•    Up to 40 minutes playing time on the pitch – each team will play two matches
•    Access to the Wembley changing rooms and players' tunnel
•    A commemorative football kit & trophy
•    Trophy presentation from the Royal Box
•    Four spectator tickets for family and friends to witness your Wembley debut
•    Post match reception – the perfect opportunity to dissect your winning goal or the opposition's dubious tackle with your teammates!
•    A DVD as a lasting reminder of your experience
Since 2010, this event has raised over £325,000 for vital bowel cancer research and Club Wembley is proud to support the Bobby Moore Fund in their fundraising endeavours.
For more information on this exclusive event, including details of how to register, please contact Debra Gunn on 01376 534101 or by email here This opportunity is only open to customers of masterframe windows ltd, on a strict first come first served basis, and only is space permits.
It was fantastic! The pitch is much bigger than it looks. Going behind the scenes, using the england changing rooms, walking up the steps to get our medals will stay with me forever, and for such a worthy cause  S. Burgess masterframe windows ltd
"To get the chance to pull on the England number 4 shirt in the home changing room at Wembley, line-up for the national anthem, and then play football on the Wembley pitch was just the most incredible, magical and memorable day… Anyone who has ever harboured dreams of playing football in the most famous stadium on the planet should jump at the chance to experience what I experienced." Simon Clare, PR Director at Coral, Bobby Moore Fund Supporter
More information and terms and conditions can be found here.