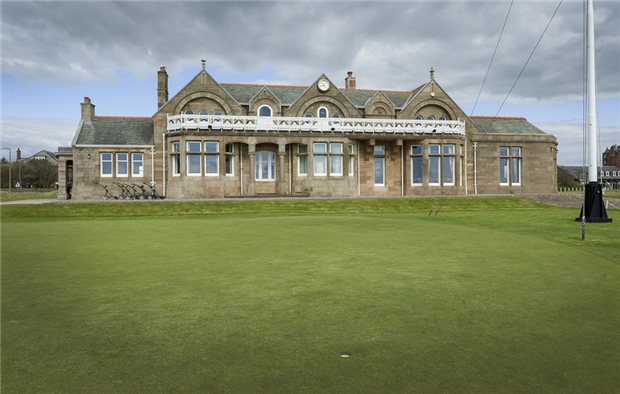 Uncategorised
ROYAL TROON GETTING READY FOR THE OPEN
There is only one OPEN championship and this year the hosts are Royal Troon Golf Club on the Ayrshire coast.
From this picture you can see the grandstands surrounding the 18th green, now dwarf the tiny club house.
Preparation for this year's open started two years ago for us, as we were asked to assist by improving their historic clubhouse, without changing its aesthetics. No mean challenge considering the building dates back to 1878.
Many of the original sash and case windows were painted white outside and stained rosewood internally. Whilst most were straight sliding windows, there were a few more challenging styles like the swept head coupled windows in the gentlemen's changing room, the large picture window for the new Club bar and two very special frames in the Craigend room, these were square windows internally behind an arched frame!
Energy rated, and Secured by Design accredited with laminated glass means members and their guests will be well protected during the event and for many years after.
With so many great golfers having played the course, let's hope the weather holds fair and we see a close competition. This will be the largest televised audience for our products, even though we have supplied BAFTA, and other important locations.
The whole world can enjoy the golf and look at our beautiful sash windows.
From everyone associated with Masterframe, we are honoured to have assisted in this prestigious project and may we wish the Royal Troon Golf Club, the club Captain, club members, groundstaff and volunteers, the very best wishes for this year Open.