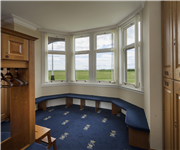 Uncategorised
ROYAL TROON GOLF CLUB IMPROVE THEIR VIEW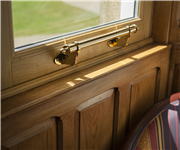 Hosting The Open must be a wonderful experience for any golf club, for its members, and its staff. Hosting it for the 9th time, as Royal Troon will do next month, must simply be amazing.
Naturally, members would want the clubhouse to look its best as the eyes of the world and the very best golfers descend upon it, next July, so the club has made a significant investment in refurbishing their club bar, their dining room, members changing rooms, and the smoke room.
Part of this investment involved the replacement of the old sash windows.
Members, via their architects, were most specific with their requirements. Whilst they knew that they needed to reduce their heating bills, their maintenance costs, and provide secure windows, their overarching requirement was that they had to retain the historic character and charm of their clubhouse built-in 1878. The windows had to match the originals, effectively they had to go unnoticed.
Externally the existing windows were white, however inside there were either rosewood, light oak, or white, so the new windows needed to be dually foiled to suit, fully butt-jointed, and secured by design furniture.
Having supplied a few samples for consideration our Vintage Collection with traditional butt joints was specified, along with laminated glass for the odd stray golf ball!
When measuring up the windows, one member reminded our MD that there would be hundreds of Clerk of the Works, watching over the installation. No pressure from the members then!
Chris Moran, House Governor of the club commented "The windows are universally acknowledged as being first-class and a number of advocates of wood have stated they were wrong and have indicated that the quality of the windows and the fitting has been an outstanding success."
Royal Troon has been delighted with the installed windows, and with the last phase of windows in the Club bar shortly being delivered, the refurbishment will then be complete, ready to welcome golfers from around the world next July, to this remarkable club on the Ayrshire coast.
Yet one more example of our quality sash windows being tastefully installed, into an important and prestigious historic building.
If you'd like to see the windows for yourself or better still enjoy a round of golf then the club has some excellent green fee offers to click here for details.