Uncategorised
THE FUTURE'S BRIGHT, THE FUTURE'S 12!
Following on from the regional meetings at the end of 2013, Friday saw the bygone installer network meet to discuss forthcoming industry challenges, software and web site updates and to unveil for the first time, the new, 2014 specification for Bygone Symphony windows.
Many in the industry are still to embrace CE marking, amazingly there are reports that many casement or door suppliers have yet to declare the right CE information, so it was most reassuring that Masterframe have been fully compliant since CE marking was introduced last July.
Of more immediate concern is the impending failures caused by the introduction of MTC Minimum Technical Compliance, brought about by DEC. They say that ALL competent person schemes, Fensa, Certass, BSI, etc must demonstrate MTC from June onwards.
This means that one fully trained and qualified fitter must be on site at all times and 25 years' experience, counts for nothing. Fitters have to have MTC certification, but less than 1% of the industry has the qualification!
The Bygone web site has had a make over and all the installers are to have direct access to update their details, photographs, news items and case studies along with the ability to manage leads.
The star of the show however, was the new super slim transom and slimline inner rail. At just 39mm, Bygone has the slimmest meeting rail of any PVCu sash window. Everyone who sees the Bygone window praises its looks, however the new rail makes other PVCu sash windows look clumpy.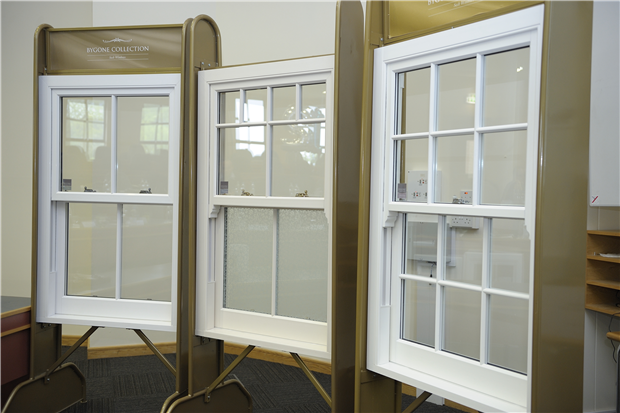 The future is 12, what was the question?
Well throughout the event, the number 12 was significant, eventually we confirmed that 12 is the new guarantee period, twelve years for Torso balances, for profile, for glass units and all hardware, yes 12 years transferable guarantees (not 12 months).
The event was a huge success, with several words of thanks like these from Tony Wybrow of Three Counties,
thanks to everyone for a very beneficial meeting. The new meeting rail looks superb and I can't wait to get hold of my sample with all the new kit on….there was such a lot of useful and important info to take on board that I couldn't scribble it down quick enough!

Thanks for the help you provide with understanding and interpreting the legislation and regs – its not something we get from any of our other suppliers and it is appreciated".
Feedback suggests this was one of our very best events, and with the enthusiasm of attendees, the future is bright for the next generation of Bygone sash windows