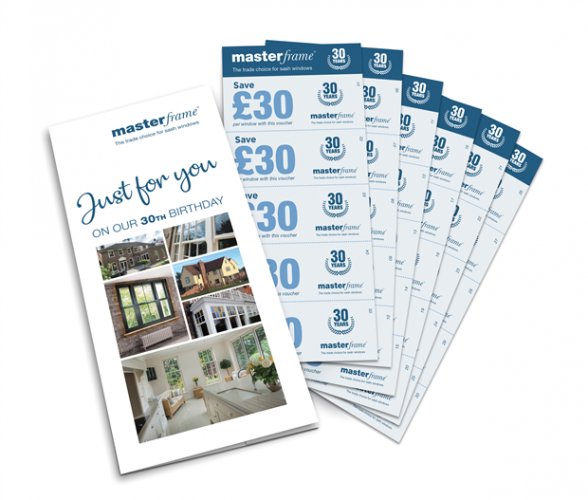 Masterframe Trade
30 IS EVERYONE'S LUCKY NUMBER AT MASTERFRAME
Masterframe is still celebrating 30 years of sash window innovation and in a bid to share some good fortune with their customers they have put together a special gift in the form of a package of discounts to be used on future orders.
Customers will be able to claim their voucher book which contains thirty, £ 30.00 pound vouchers to be used across the entire trade range.  This is effectively a £ 30.00 discount per window with a total worth of £ 900.00 should all vouchers be used.
Carol Slade, Sales and Operation Director said "We are delighted to be passing on these significant discounts to our customers in our Birthday year.  We are running the campaign up until 12th October so that there is plenty of time to take advantage and to make some significant savings across all our trade ranges.
To order your voucher book, please contact Jack Sellick directly on 01376 534 112 or e-mail Jack.sellick@masterframe.co.uk
Browse our product range here.