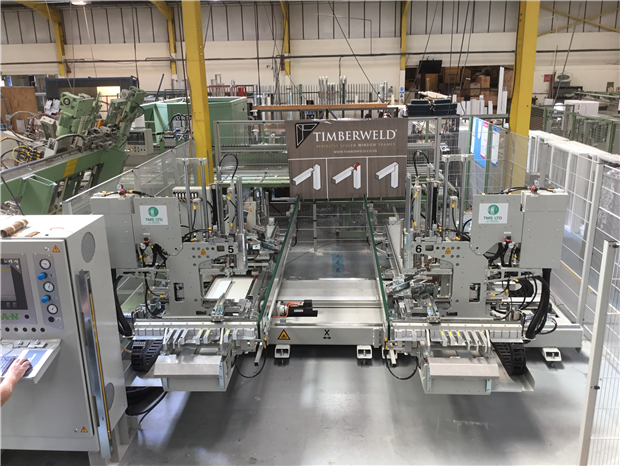 Masterframe Trade
BRIGHT NEW FUTURE ROUND THE CORNER
NEW WELDER DEBUTS IN TIME FOR 30TH BIRTHDAY CELEBRATIONS AT MASTERFRAME
The future is indeed bright for Timberweld ® technology at Masterframe Windows in Witham where the substantial investment in a new bespoke four head welder is beginning to reap rewards.
Five days of commissioning was not without challenge as the welder only narrowly fitted into the factory but the commissioning went smoothly and by Monday 2nd July the perfectly sealed, machine welded corners start rolling off the production line.
This momentous occasion is indeed cause for celebration at Masterframe as the company turns 30 and enters a brand a new age in its  manufacturing history.  It is now possible to produce these truly authentic corners with all the advantages of machine welding such as strength, speed, efficiency and overall consistency.
Carol Slade, Sales & Operations Director says "We are confident that this development will be well received because we are now the only vertical slider manufacturer who can offer this patented technology in conjunction with all the advantages of machine welding. 
Our customers will receive award winning sash windows with perfectly sealed corners that are manufactured using a state of the art welding machine and the patented Timberweld ® method of corner construction."
Aesthetically, Timberweld® joints look just like the Mortise & Tenon corners that are associated with original wooden frames.  Blending in with all architectural styles, high quality Masterframe sash windows, along with these traditional butt joints will impress the planners and thus be suitable for use in conservation areas.
On Friday 29th, one day before the official Birthday, the Masterframe team gathered around the welder in the factory to celebrate its arrival but also to review the past 30 years.  There were some emotionally charged speeches from the Directors as they thanked the team for their contributions and expressed confidence as they moved forward into a bright new future with even greater relevance.
Read more about all the historical developments that lead up to the delivery of the welder here.