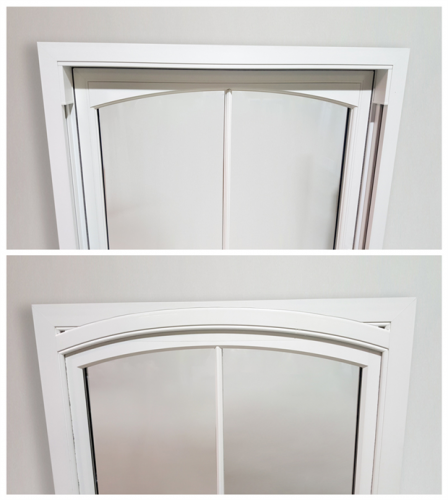 Masterframe Trade
LONDON SASH & FRAME
Sash window specialists Masterframe have launched its unique London Sash and Frame system. It is perfect for replacing timber windows with an arched exterior and square interior, commonly found in Victorian buildings in London and the surrounding areas.
The exclusive system shares all the benefits of Masterframe's Authentic or Vintage Collections and means that installers don't have to rely on finding a bespoke design to achieve this window style.
Ray Rabett, Technical Director at Masterframe, explains: "We were first approached about this window style when a customer was replacing windows at Guildford High School. The existing sash windows were square internally but arched externally, and there wasn't a solution on the market for a like-for-like replacement.
"We worked with them to deliver a solution for the project, but soon realised that this wasn't a one-off. There were plenty of buildings around the London area that had this window style."
Masterframe now produces CAD drawings for each individual window specifying the PVC-U London Sash and Frame to ensure complete accuracy.  High-quality panelling is then shaped by experts to fit each individual aperture.   Fully trained fabricators construct the window and complete it to a stunning finish.
London Sash and Frame are faster to install than traditional arched windows and made bespoke to fit the original architecture. It's an ideal option for conservation areas, as the authentic design offers incredible aesthetics, with white wood foil and a color-matching paint service available if required.
Ray adds: "This system is completely bespoke and completely unique to the market, making it faster and easier to complete renovation projects that feature this window style."