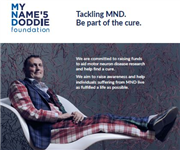 Masterframe Trade
MASTERFRAME CHOOSES THE MY NAME'S DODDIE FOUNDATION FOR CHRISTMAS DONATION
Last Sunday night, 15th December 2019, during the BBC Sports Personality of the Year awards show, Doddie Weir received the Helen Rollason Award from the Princess Royal.
The award recognises outstanding achievement in the face of adversity and BBC Sports director  Barbara Slater said: " To come to terms with his own life changing diagnosis and channel his energy into raising more than £ 4m to research the condition and a possible cure is nothing short of extraordinary".
Having been diagnosed with motor neuron disease (MND) in 2016, Doddie Weir launched his charity a year later called the My Names' Doddie Foundation to aid research and to improve the quality of life for those with MND.
An outstanding sportsman, the former Melrose and Newcastle Falcons rugby lock with 61 winning caps also played for the British and Irish Lions on their tour to South Africa in 1997.
Carol Slade, Managing Director for Masterframe said" We were so inspired by what Doddie Weir has achieved in spite of not being the most publicised charity in the spotlight, that we have selected the My Name's Doddie Foundation to receive a Christmas donation.  We think that Doddie represents the best of human nature this year and deserves the support.
Instead of sending Christmas Gifts out to customers we will make a donation to this worthy cause. In addition to our donation and in retrospect to 9th December 2019, we will donate an extra £ 10.00 per order received up until 17th January 2020.  We hope that this will help towards Doddie's commitment to the research of MND and to the improvement of quality of life for those who have it."
To make a donation to My Name's Doddie:
Text: 'DODDIE' to 70970 to donate £5 or donate online.