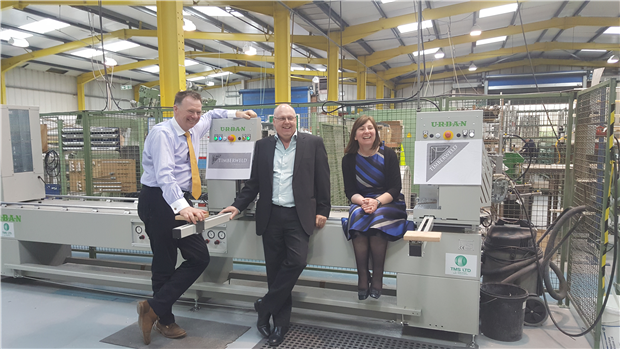 Masterframe Trade
TOP NOMINATION FOR LEADING LADY AT MASTERFRAME
It was cause for celebration when it was announced that Managing Director, Carol Slade had been nominated for the Essex Countrywide Business Awards 2019 – Business Woman of the Year.
Masterframe Windows Ltd, a family business has been manufacturing sash windows in Witham, Essex for the past 31 years. As specialists, the company is totally focused on manufacturing low maintenance PVC-U sash windows that are as close to timber originals as possible and suitable for use in Conservation Areas.  In the pursuit of the perfect timber alternative window Masterframe is constantly innovating and looking at new ways to break boundaries in the sector.
In the past two years, Masterframe has won three National Fenestration awards namely, Timber Alternative Company, Fabricator/Manufacturer, and Product of the year for Timberweld® the patented method used by Masterframe to create perfectly sealed wood effect corners.
Carol joined Masterframe as a Financial Consultant and was appointed to the Board in 2008 as Operations Director taking on the added responsibility of Sales & Operations Director in 2012 when the company faced recession.  Carol then moved downstairs from her office on the top floor to the sales office and into the heart of the challenge where she examined every aspect of the company's finance, systems, and processes to find a way to return the company to profitability.
After those dark days, with Carol's guidance, the company has continued to achieve more and more profitability.  Decisions were made to release funds to invest heavily in capital equipment that would elevate the company to a new level of production efficiency.
Since being appointed Managing Director in December 2018, Carol has concentrated her efforts and made it her goal to grow the commercial side of the business, winning prestigious projects and getting the Masterframe name in front of architects and specifiers creating fresh marketing opportunities.
Carol says "As MD I have been able to be more involved in the production side of the business to ensure that when we get these prestigious contracts, we completely deliver on quality, service and excellent communication. I am aware that greater profitability and long term contracts also provide job security and better prospects for my team. It is important for me to be available to make decisions that are right for the company and to make time to speak to customers to find out more about how we can assist them and what the market is dictating.
Recently we have launched a new trade range which will offer customers exclusive profiles with a higher specification at a lower price which will make us more competitive in the market.  In terms of what the longer-term future holds, as a business we will strive to get our brands and products to a wider audience. The market offers considerable opportunities for promotion to conservation officers, architects, house builders, and retail customers. We can create more awareness of how well our products look, feel and perform. We truly believe there is not another vertical sliding sash product on the market that matches ours and we need to get that message out to as many people as possible."
Carol continues "I am very aware that any achievement I have made is due in a large part to the support of my co-directors and team whose testimonials accompanied my entry.  Their support and commitment to the ethos of producing award winning products with a customer service ethic to match is always appreciated and I will continue to strive for a working environment where each member of staff feels valued and heard."
The winner will be announced at a Black Tie event on 15th November 2019.